Carly was an amazing driving instructor and she made me feel comfortable and safe whilst learning. I can't thank her enough for her support and also being very friendly and kind on every lesson. Thank you so much!!
Holly Empsom
After having gone through a couple of instructors Richard Jarvis was recommended to me and I'll always be thankful for that! Richard has been fantastic and has shown patience and support in helping me pass my test first time. He is knowledgeable and teaches in a way that doesn't make you feel afraid or dumb for doing something wrong, and goes the extra mile with keeping us informed with what is happening, especially in the lat few months. I couldn't praise him highly enough and couldn't recommend him highly enough :))!
Adriano Watts
I can't find enough words to thank Kev Macey my instructor, he has been so patient with me and always had a smile on his face. If anyone can get you through a driving test after a global pandemic it's definitely him!! I couldn't have done it without him. I would highly recommend. Thankyou.
Georgia Watson
Thank you Hannah for getting me through the test and theory.
Isabel Jane Robinson
Richard Jarvis has been the perfect instructor for me. He is friendly, knowledgeable, reassuring and kind; & which has encouraged my love for driving. I started in January and was due to take my exam 1st April however due to covid this had to be delayed. His communication and thoroughness since starting lessons up again has been brilliant and again, his reassurance and support has given me such confidence after a lesson-less few months. Passing my exam is incredible; I'm so grateful to Richard and the time/energy/knowledge he has put into my lessons. Thank you again and again and again!xx
Jade Jenkins
I passed my test just over a year ago and I want to say a massive thank you to Carly and Richard. I couldn't recommend them enough! I used to be very anxious about driving and they made sure I was comfortable, but also that I still challenged myself to accomplish something new with every lesson.
They gave me the confidence I needed for driving. Excellent teachers and lovely people, a big massive thank you to them and Lady drive xx
Phoebe
I passed my practical driving test today. I wouldn't of done it without the support and help from the one and only Carly Jarvis! Clicked straight away with her, she is the Best driving instructor. Very calm, patient, funny and just an absolute joy to drive along side. Made me feel at absolute ease, and filled me with confidence in my ability to drive, rain or shine! I would highly recommend her.
Thank you so much for everything! If you need an instructor go to Carly.
Chloe York
Can't recommend Alex Pursell enough to anyone looking for a patient instructor, breaks it down throughly and a great guy to be around, thanks again.
Damian Morris
Can't recommend Kevin enough. He is a very patient instructor. He will point at you bad points and improve them so they become stronger. He is very friendly it is like having you best friend. What I like about Kevin is that he will make you practice the most difficult bits first so that when easy ones come it will be like a walk in a park! I can't recommend him enough. Would suggest him to anyone who wants to pass his/hers driving test! Good luck Kevin and thanks for everything!
Edgar Hronin
Passed my test first time a few weeks ago and wanted to say a big thank you to Richard. I was pretty anxious about learning to drive and he did a brilliant job of building my confidence behind the wheel. Would definitely recommend if you're after a driving instructor in the Worthing area.
Melanie Barnes
I passed my driving test first time today with Sharon. She went above and beyond for me and I couldn't be more thankful. I wouldn't recommend anyone else! She was calm, lovely and we had the best Laughs together. Thank you so much for giving me the time and for believing in me.
Daisey Jupp
From a Mums point of view: Hannah came highly recommended and immediately clicked with Tali - she'd been learning with another instructor but was rapidly losing confidence so we took the plunge and changed to Hannah. She was really patient, thorough and above all honest so that Tali knew exactly where she was in her learning at all times. Communication with Tali and me was great so we could focus on areas to work on when practising between lessons. Hannah has a comprehensive knowledge of the mechanics of the vehicle and explained this clearly which gave Tali confidence in operating the car. Her teaching gets the learner driver to the stage of being the best they can be before taking the practical - Tali passed 1st time with one minor fault. For a parent all you want is for your teenager to be safe and confident as a new driver and this is how I feel. Can't thank you enough Hannah - think the tears and hugs (sorry!) may have given you a clue to how happy we are with your efforts and the fantastic result today.
Kate Mason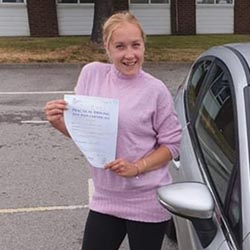 Congratulations to key worker Sylvia Terkafrom Brighton who passed her test today with Ladydrive and His and hers Driving School.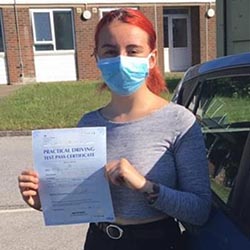 Congratulations to Paige Cox, a key worker from Fishersgate, who passed her test first time today with Ladtdrive and His and Hers Driving School.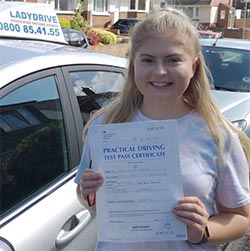 I would like to leave a review for my driving instructor Amelia. I passed my test yesterday and it wouldn't have been possible without Amelia, she is an incredible driving instructor. I've had bad experiences with other driving instructors in the past, Amelia helped to build my confidence back up. Each lesson was varied and Amelia explained everything to me in a way which I could understand. Amelia is so easy to get along with which really put me at ease in the car. She is very kind and understanding, and I will miss having my lessons with her every week. I couldn't recommend Amelia more.
Kind regards,
Sophie Peacock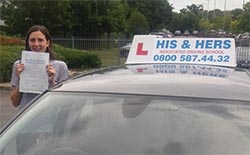 I passed first time today with Kev! So thankful for his patience with me, kept me calm throughout my lessons despite my nerves. I also had Elisa before switching, (only due to scheduling constraints) who was also excellent. A great driving school all round. I would highly recommend.
Ellen Bass-am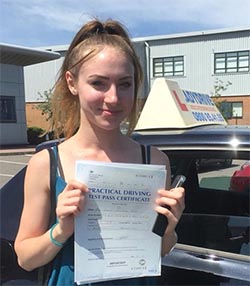 A huge thank you to Elisa who was an amazing instructor and enabled me to pass my test first time today, with no minors. I am so grateful for the tips and advice from Elisa, that nor only helped me in my tests but will also help me in my future driving. Thank you.
Cicerly Perry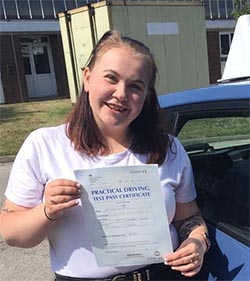 I passed my driving test on 8th July with no minors. I learned with Sharon who is amazing - the lessons were always fun with lots of laughs and my confidence grew with each lesson. Sharon always had load of patience for me, never let me give up and got me to keep keep trying until it clicked!! I'll miss out weekly sessions but I'll always be grateful I learned with Sharon.
Sophie Virgo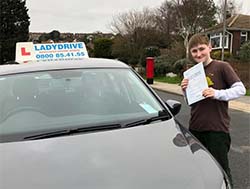 Passed with flying colours thanks to my teacher Hannah. Always a friendly atmosphere which helped my confidence. Also super convenient and fun! I shall be recommending.
Georgie Crump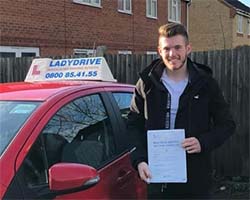 I passed my driving practical, and wanted to say Tracy was an amazing instructor, made everything so easy and made me feel completely comfortable with the driving. She scheduled lessons on her day off to help me fit it around my schedule and I'm so grateful for that.
Ross Thompson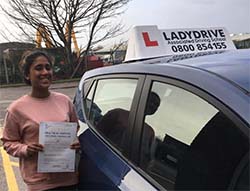 Thank you, I couldn't have asked for a better instructor to teach me until I was confident to take the test and pass. I will miss all the banter and laughs we had during the lessons.
Nadeera Khatun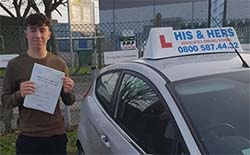 Hi, I'm Max. I just recently passed my driving test with zero minor faults and had Glen as my instructor at Ladydrive. He was very good at teaching as he was patient and made you feel comfortable, so driving wasn't a chore but very enjoyable. I would definitely recommend him.
Max Laing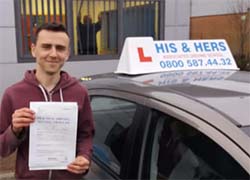 Fantastic approach to lessons, building confidence at your own pace. Passed first time thanks to my instructor Kev. Have recommended this school to friends who speak similarly highly of their lessons, and will totally recommend to others.
Tom Baker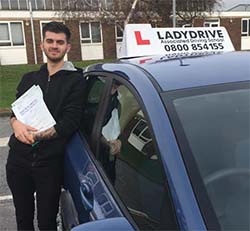 Can't thank Tracey enough for helping me pass first time! She's been the best instructor the whole time I've been Lewis Rogers All the talks, the laughs, the highs and the lows. Many many thanks for over a years worth of fun and comfort. Won't be something easily forgotten.
Lucy Carr-McClave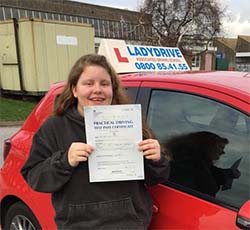 Thank you Tracy Smart. Thank you for being so patient with me and my hills. Thank you for making me confident with my driving. I'm going to miss our chats and Betsy! Thank you.
Emily Cohen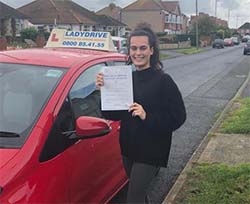 Can't thank Tracey enough for helping me pass first time! She's been the best instructor the whole time I#ve been learning and has made me laugh every single week. I will miss our lessons. Thank you.
Victoria Rodrigues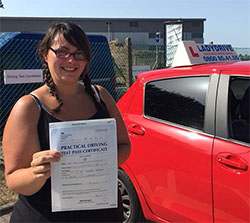 Tracy was amazing. So patient considering it took me weeks to get out of 2nd as I hated it SO much haha. now look go all the way to 6th gear but honestly if it wasnt for tracy and being able to laugh at things, I would of given up. it was an upwards struggle at times (literally) but tracy never gave up. Even when I stalled it 3 times and kerbed it just before my test, she kept me calm.
Amazing Amazing AMAZING instructor. whom I will very much miss going 'LISTEN TO THE CAR' thank you so much
Kelli Mountifield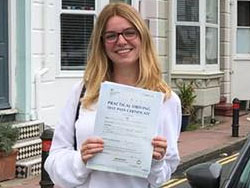 I passed my driving test with Hannah and I will be recommending her to everyone because she made me feel so at ease from the first lesson. And every lesson after that was enjoyable and she always remained calm which I found really helpful as a learner. Hannah was great at arrange lessons around my work and she always made time for me especially as the test came closer which I really appreciated.
She is extremely knowledgeable about the mechanics of the car and the format of the test so she could always answer my questions and Hannah was able to explain everything in a way that I understood. She's become such a great friend and I'll miss my lessons with her!
Elena Campbell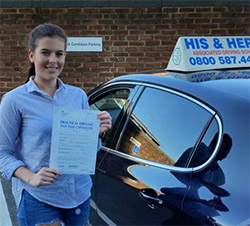 Amazing teacher, would recommend to anyone!!! Thanks again for all your help and for putting up with me for all this time haha!
Courtney Herbert from Durrington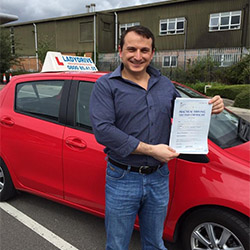 I would like to express my gratitude and appreciation to Tracey Smart who, through her support, encouragement and patience helped me gain confidence in driving.
The task of the excellent teacher is to stimulate "apparently ordinary" people to unusual effort. The tough problem is not in identifying winners: it is in making winners out of ordinary people.
Stas Tambur from Worthing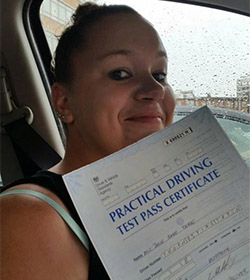 Couldn't of asked for a better instructor if I tried patient and funny but yet professional can't thank you enough no amount of words will show you how great full I am.
Julie Thorns from Worthing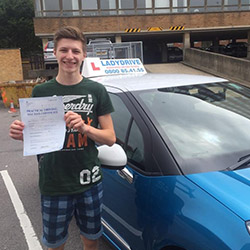 Over the moon! Thanks you Carly Edwards for being such a great teacher! Couldn't have done it without you, so thank you again haha!!
Josh Earl from Worthing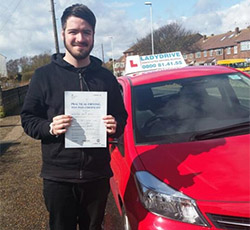 I want to massively thank you for how patient you were. We always had a good laugh and you got me through driving with flying colours! I am thrilled that I passed first time! But I'm also going to miss the lessons! You star!!
Ron Braeman from Worthing.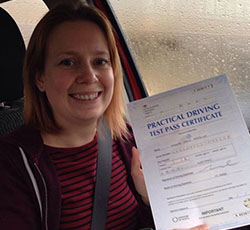 I just want to say a massive huge thank you to Tracey for helping me regain my confidence after a bad driving experience. She's such a great teacher, always patient, friendly and encouraging! She always put me at ease helping me improve on my weak areas as well as focusing on my strong points. I couldn't have done it without her and would recommend her to anyone and everyone!
Hannah Nardella from Hove.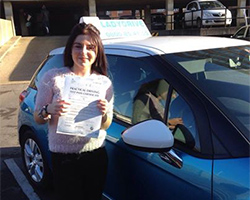 Just want to say a massive massive thank you to Carly Edwards from Ladydrive because without her there is no way that I would've passed first time today. She's helped me grow since July to become an independent person who can drive confidently. I would definitely recommend her to anyone.
Thank you again Carly! Will miss our lessons
Chanel Ellett from Angmering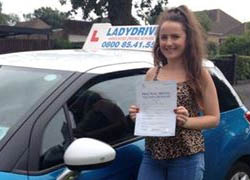 Thanks so much Carly Edwards you were honestly the best instructor. Really helped get my confidence back...I will miss our lessons and will be highly recommending you to everyone I can!! Xxx
Niamh Ann Goodwin from Brighton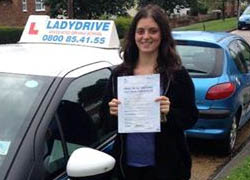 I had a previous instructor who taught me all the wrong things and then I went with Ladydrive and had Carly as an instructor who quickly got me out of all the bad habits the previous instructor taught me.
I definitely recommend going with Carly as she was really helpful and the lessons were really fun! will miss them.
Lucia Tabone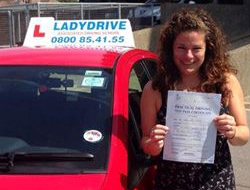 I was overjoyed to have passed on 30 July thanks to my lovely instructor Tracy. This was my second attempt, although the first with Tracy. My first test was over 15 years ago and was so traumatic it has taken until now to give it another go. Tracy is a fantastic instructor, so patient, she helped me to regain my confidence, explained everthing clearly and made the whole experience oflearning drive really good fun! I would highly recommend her to anyone wanting to learn.
Laura Foster from Shoreham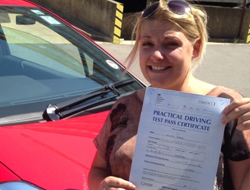 Fantastic instructor with so much patience. Highly recommended. X
Abby Crosskey from Lancing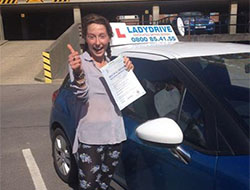 I cannot even begin to thank you enough, I couldn't have done any of it without you, not only did you help me pass but you've given me so much confidence on the road. You are the most patient/kindest/most loveliest person. I'm so glad I had you to teach me and I'll never forget out lessons.
Hugely recommend her such a legend!!! 10/10! Thank you so much! Xxxx.
Imogen Smithson from Ashurst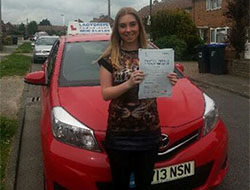 Big thankyou to tracey overington, couldnt of passed without you. So patient and understanding, so glad i found you after bad experience beforehand. Your a star xx.
Chantelle West from Shoreham.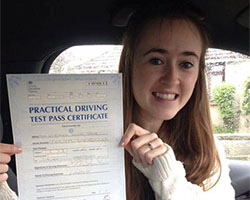 Carly was a fantastic driving instructor, she took me at the level I was at and made me feel at ease straight away. I felt very comfortable with such a nice person and my outlook on driving became extremely positive and I looked forward to my lessons. Always willing to go that extra mile Carly helped me to become a confident driver and I also gained a good friend too! Xx
Stephanie James from Lancing.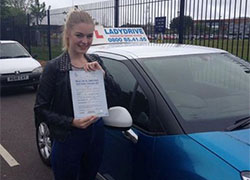 Thank you so much to both Sharon and Carly for helping me pass my test first time. You were both amazing, made me feel so confident on the road and with my manoeuvres. I'd definitely recommend LadyDrive, they're fab !Thank you again!
Emily Methold from Shoreham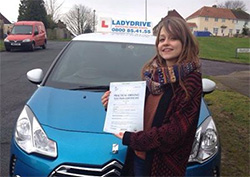 I can't thank Carly enough for all my driving guidance! Having failed twice before my confidence was low, but she made me feel so relaxed and calm I felt confident on the day of my test that I could succeed and I did! She helped pick up on points that I needed to improve on whilst always congratulating me on what I did well on which always helps!
Elizabeth Douglas from Brighton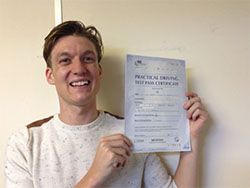 I had a wonderful expierence with Ladydrive. Debbie was amazing, so clear, patient and made me feel so comfortable and really helped me build up the confidence to be a safe and able driver. I would recommend Ladydrive to everyone and anyone. Thanks again! I PASSSED!!! Yay!!!
Jaered Glavin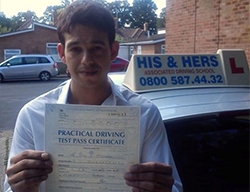 Thanks Mick for getting me through in just under 20 hours! I believe this was only possible with the professionalism, but at the same time, informative lessons which took the tension out of preparing me for my test. Once again, well done Mick too, I will certainly recommend you to anyone.
Paul Milligan from Crawley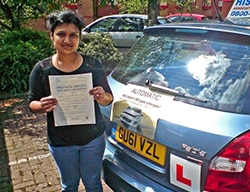 Thank u very much Peter :) You are an AMAZING INSTRUCTOR.
Nithya Pagonda from Haywards Heath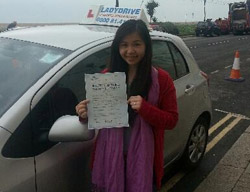 Tracy who is my car instructor, she taught me really well and shes very patient. Thanks, because of you i passed the test in a short period of time x.
Joey Choui from Brighton